The etching process developed with world's first technology TOP domestic share of small- and medium-sized LCD slimming market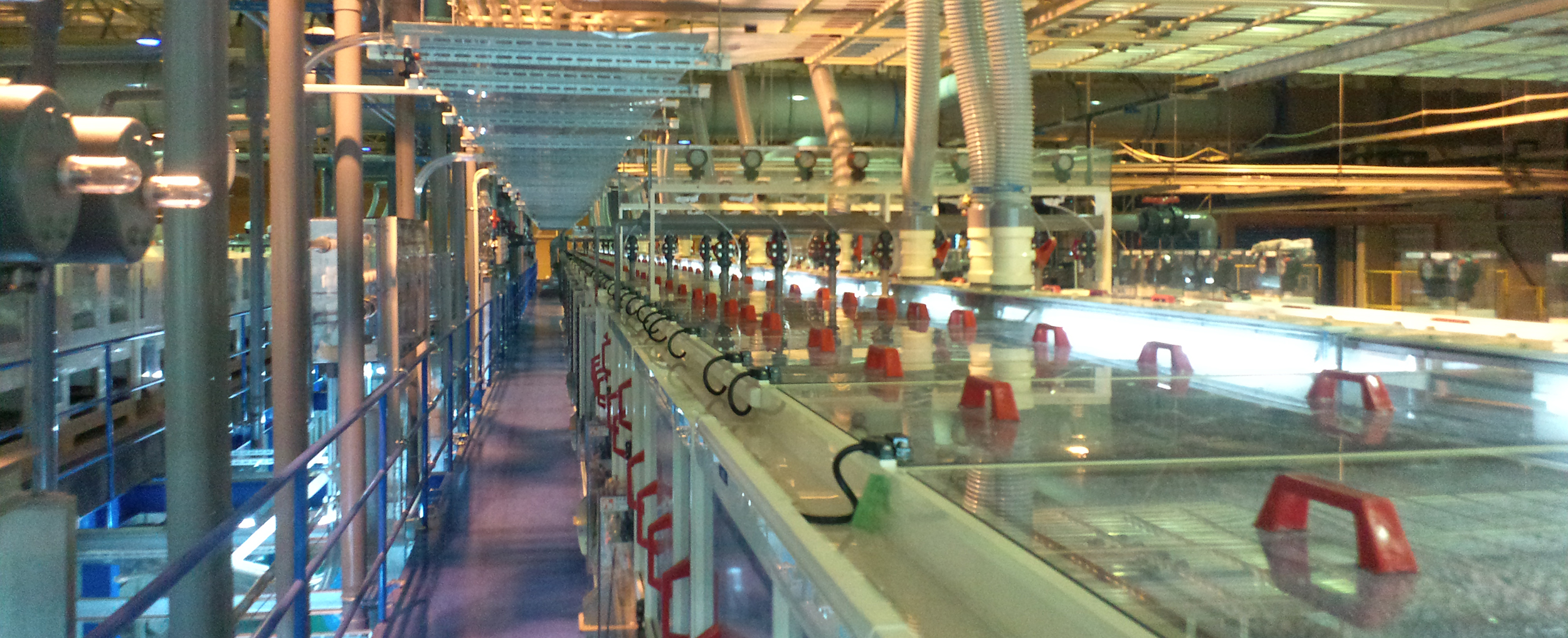 With an increase in demand for thinner and lighter cell phones, notebook computers, smartphones, and tablets, thinner glass products are required for the likes of the LCD panels that these products incorporate.
NSC, being a pioneer in the industry of chemical slimming of LCD panels and glass substrates, has strived to develop chemical-based technologies for uniformly etching glass substrates. Since NSC's establishment of mass production process for batch slimming of LCD panels in 2001, as the leader we have greatly contributed to the popularization of LCD mobile devices such as cell phones.
In 2010, NSC established the mass production process for single substrate slimming, with which we successfully launched the mass production process technology for slimming large-sized glass substrates measuring up to 1500 mm × 1850 mm.
So far, the quantity of mass production at NSC has reached over 20 million. With our strength in chemical etching process and know-how for etching technology, NSC has been gaining high recognition among the domestic and overseas manufacturers in terms of both quality and lead time
Recently, requirements for processing glass materials are increasing among many products since demand is shifting from resin materials to glass materials on account of the fact that glass materials have properties such as high-quality texture, durability, chemical resistance, and easy maintenance. To further enhance customers' experiences, NSC will keep striving to develop more solutions for slimming more kinds of glass workpieces.
Features
Available Sizes
Single substrate chemical etching process can handle glass substrates with a maximum size of 1,500 × 1,850 mm and process the workpiece to a minimum target thickness of 0.2mmt. Compared to slimming of small-sized glass substrates, the slimming of large-sized glass substrates is of greater cost-performance efficiency per unit size and thus able to help reduce the total expense of customers' entire production processes.
Improving Strength
In many cases, the machining of glass workpieces generates minute flaws called "micro-cracks," which are invisible to the human eye and which can lead to reduction in strength or cracking. NSC's etching technology is capable of removing micro-cracks by performing very slight chemical etching onto the glass workpieces, so as to improve strength of the glass.