MOBA Clean (antibacterial screen cleaner)
Dramatically changes the gloss and touch. The smartphone & tablet screen cleaner presented by the expert of LCD processing industry.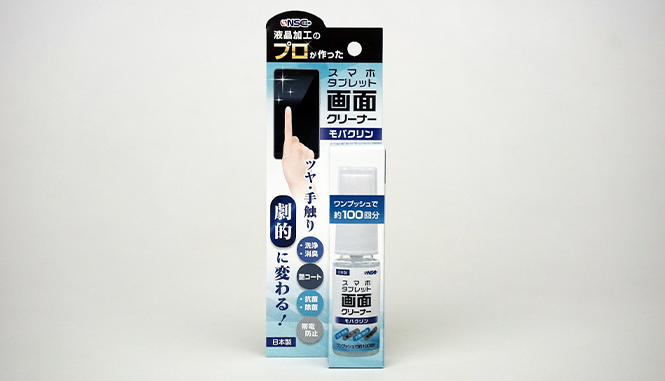 At NSC, up to 2 hundred million of smartphone screens are processed every year. With such accumulated knowledges and experiences, NSC created an original recipe and developed this hi-spec multi-functional screen cleaner.
This cleaner is not only used for cleaning LCD screens and removing bacteria from the screens; besides the basic functions, it is also antibacterial, deodorant, and antistatic. In addition, the coating agent contained in this cleaner makes the gloss and touch of the screens extraordinarily great each time after wiping with this cleaner.
Details
6 effects produced by high-functional components:
1.High detergency・・・Fingerprints and hand sebum can be wiped out at once.
2.Deodorizing effect・・・The unpleasant odor can also be refreshed.
3.Bacteria removal effect・・・Alcohol component makes bacteria removing possible.
4.Antibacterial effect・・・Screens remain clean after wiping.
5.Gloss coating・・・Coating effect makes the screens shine each time after wiping.
6.Antistatic coating・・・Adherence of dust can be prevented.
Bacteria removal effect test with the cleaning method of wiping
Comparison of general bacteria count before and after wiping a stained smartphone screen.
Smartphone screen, stained
Number of bacteria: 26,000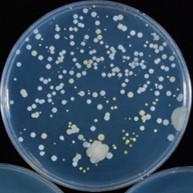 Smartphone screen, wiped with MOBA Clean
Number of bacteria: 10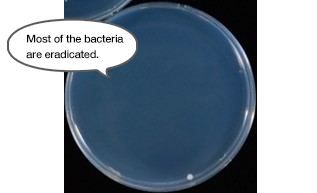 Measurement result of the general bacteria count after letting the screen alone for 2 days (35℃).
(JFRL, Japan Food Research Laboratories)
Purpose of use・Usage instruction
Spray this cleaner onto stained parts of the following items and wipe out the cleaner with a dry cloth:
Screen of smartphones, tablets, touch panels, or surface of cover glass sheets, protective films
To avoid damages to an electrical device, do not spray this cleaner onto a plug port or any other ports on the device. If there are any cracks or broken parts on the screen of a device, do not directly spray this cleaner onto the screen.
Handling precautions
Do not use this product for any other purposes. In case of ingestion or of contact with eyes, take immediate emergency measures and consult the doctor immediately.
Composition
Surfactant (Sodium alkyl sulfate 0.7%), ethyl alcohol, antibacterial material, antistatic agent, glazing agent, deodorization material, defoaming agent
pH
Neutral
Storage method
Avoid exposure to sunlight and keep the temperature at 40℃ or lower.
SUS Clean (pickling agent for SUS)
Maintaining the corrosion resistance of stainless steel through descaling of oxide layers.
SUS Clean easily and efficiently removes oxide scales generated during the production and welding of stainless steels.
During the processing or welding of stainless steel, oxide scales, welding scales, or heat scales will be generated and reduce stainless steel's corrosion resistance. With NSC's SUS Clean*, oxide scales can be removed, and thus stainless steel's corrosion resistance will be maintained.
*Three types: Paste type, dip type, and spray type
SUS Clean 300E 20kg, 10kg Paste type (applied with a brush)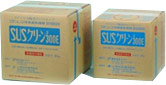 For descaling oxide scales, welding scales and heat scales from products made of austenite stainless steel
Ideal for removing scales from large items fabricated with multiple types of metal and which cannot be dipped for pickling. Rather, SUS Clean is applied directly to the item.
SUS Clean 300S 20kg Dip type

For removing welding scales and stubborn oxide scales from products
Ideal for descaling many small items at the same time. Suitable for descaling items that are fabricated using only stainless steel and which can be dipped for pickling, thus improving operation efficiency.
SUS Clean 300X 20kg Spray type (for use with NSC sprayer)

Spray-type pickling agent for large/ complex-shaped items
Avoids uneven application which is usually caused when pasting with brushes and reduces the operation time to 1/20.
Features
(SUS Clean 300S used)
| Stock liquid | Solution diluted to 1/3 |
| --- | --- |
| About 10 minutes | About 50 minutes |
Free from chlorine ions that are harmful to stainless steel
Spreads easily during application
Three-type lineup: Paste, dip, and spray types, allowing users to select the optimum type for their application
Available for various types of austenite stainless steel
・・・SUS304, 304L, 321, 316, 316L, 301, 302, 309S, 310S, and 347
Ferro Check®
Safe and Quick Passivation Test
Ferro Check® is a registered trademark of NSC Co., Ltd.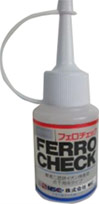 Ferro Check® is a test chemical for performing safe, quick passivation tests.
The passive film on stainless steel gives it corrosion resistance but is clear and colorless, so whether stainless steel has a passive film cannot be checked with the human eye. "Ferro Check®" quickly senses whether a passive film is present (1 to 3 minutes). If it detects the absence of a passive film, it turns red. This simplicity contributes to the improvement of the service life of stainless steel.
Ferro Check can also detect divalent iron ions, and so can be used to check for plating defects (such as pinholes) over an iron base.
Features
Safety
Ferro Check is free from the harmful cyanide compounds that may be present in a ferroxyl test.
Quick Test
While the "saltwater spray test" that is generally used for checking for passivation and plating defects requires much time to complete, NSC's "Ferro Check" provides a result within 1 to 3 minutes, which reduces the test time.
Easy Test
While a "pitting potential measurement test" requires a special measuring apparatus and a test piece, Ferro Check produces a result just by directly spraying it or placing a few drops on a product.
Useful
Ferro Check allows users to conduct tests on products. The spray type allows a user to apply the test to large items.
Clear Result
If Ferro Check detects the absence of a passive film, it turns bright red orange, clearly indicating the result to the user.
Examples of Experiments
Turns red if the passivation is sub-standard.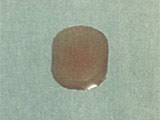 Does not turn red when the passivation is acceptable.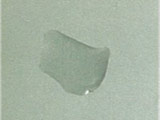 If the passivation is sub-standard, Ferro Check turns red as shown in the photo on the left. When the passivation is acceptable, it does not turn red, as shown in the photo on the right.
Uses
Target Users
Plating manufacturers
Can manufacturers
Polishing manufacturers
Surface treatment manufacturers
Dyers
Food machine manufacturers
Semiconductor-related manufacturers